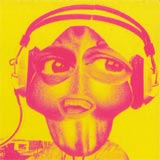 The Fuzz
USA | gONNA.gET.gOT.com | nepO.biz
Once upon a time Two young kids (Michael & Michael, Aka Druggy G and Nepo) from New Jersey grew up loving pop music, then fell in love with Hip-Hop. Naturally, they formed a band, first calling themselves The CIA and then The Fuzz. Being too wild, free, and alive for the grunge kids they ran away to London, drawn by the bright lights and a burgeoning pop scene. In no time at all, they were snapped up by Laurel Records, released their first, and only single ("God Bless The Radio").
Now, re-invented, re-discovered and re-signed (to Polydor) by the team that previously brought Skunk Anansie and Daisy Chainsaw to the fore, THE 0 have added drummer Burnman to the ranks and have just finished recording their debut album with Mike Fossenkemper (LL Cool J, PM Dawn and Public Enemy). Huge admirers of the British scene and long term London residents, The 0 will be filling your hearts and storming the charts with their deliciously mutant Hip-Hop'n'Roll. Imagine a skateboarding party hosted by The Beatles and TheBeasties! The party starts in October 1997 with the release of the debut single "Get Wasted Time....


Catalog
001 God Bless The Radio
Other Releases
001 Nightmerica
002 Mutant Home Demos
003 Junk In The Trunk