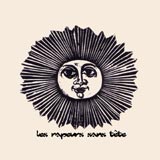 stream mp3s via m3u
download zip (10 Mo)
Les Rapeurs Sans Tête
fsz013 | 02:54 | march 2004
At the beginning of 2004, Sylvie Bouvier worked with her pupils (7 to 9 years old Adama, Zacharia, Rojin & Swell) on writing some rap lyrics as it seemed to be the very way they would learn to read and write french.
I knew Rojin, Zacharia and Adama for having already worked with them. I found the result so nice, so astonishaly personal, that i proposed the guys to record them while toasting their text, and to make a track for them.
I was teaching 3 years old pupils that same year so it wasn't easy finding some time to record them. i had to cut & paste on the voices and overdubbed some music.
In the text, Adama talks of his mother's death, Zacharia says he misses his father who he hardly sees... Though there is so much trouble for them, they keep having that huge appetite for life.
Everyone had his cd. They proudly played it in all the classes of the school. Unfortunately i couldn't scan the sleeve's drawings each one had made. Wars, weapons... but also a bright Sun !
Chenard Walcker
Comment |


01 Introduction par Sylvie
02 Les Rapeurs Sans Tête
Cover art : front | disc | back
Voice by Adama, Zacharia, Rojin et Swell
Music by Chenard Walcker
cc 2004 Free Sample Zone