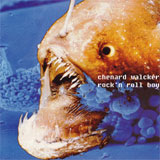 stream mp3s via m3u
download zip (40 Mo)
Chenard Walcker - Rock'n Roll Boy
fsz015 | 26:19 | april 2004
A weirdo funky stuff featuring some of the hottest dum dum boys, like Shooby Taylor, Justin or Louie Louie. Hey! If you're skeptical about this, just check the lyrics of the title-track, sung by Justin :
WHEN I WAS BORN, I WAS JUST A YOUNG BOY
BUT NOW I'M GROWN, AND I'M AN OLD BOY

I LIVE IN THIS TOWN, I LOVE IT
AND THERE'S NOTHING YOU CAN DO TO CHANGE IT

I'M A ROCK'N ROLL BOY!
I LOVE THIS ROCK'N ROLL CHOICE!
I'M A ROCK'N ROLL BOY!

I COME FROM A ROCK'N ROLL TOWN
AND I WILL KEEP MY GROUND
SO IF YOU EVER COME TO MY TOWN
I'M GONNA KNOCK YOU DOWN

I'M A ROCK'N ROLL BOY!
I LOVE THE ROCK'N ROLL, ROCK'N ROLL CHOICE
I'M A ROCK'N ROLL, ROCK'N ROLL, ROCK'N ROLL BOY!

OH YEAH!
(I LOVE YOU MOM)
But the fuzz here comes from Jaune Soufre, a poem of Malika Saïd, on which Chenard added some kinda surrealist happy funk, with unknown instrument soli and rolling bass that contrasts a great deal with the dark poem Malika wrote. The following track, Shooby Taylor, is a sonic stew development of Jaune Soufre with fat drums, heavy guitars soli and loads of insanity !
Comment |


01 Rock'n Roll Boy
02 Rock'n Roll Djagbe
03 Black Lotus
04 Nasty Feet Recorder
05 Jaune Soufre
06 Shooby Taylor
07 Touch Of Light
08 Reverse Rock'n Roll
Cover art : front | disc | back
Songs by Chenard Walcker
cc 2004 Free Sample Zone