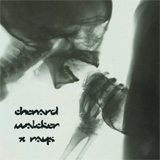 stream mp3s via m3u
download zip (30 Mo)
Chenard Walcker - X Rays
fsz019 | 19:13 | august 2004
This set was initialy created for the mr_melvis project at Comforstand records, a compilation called "Wakka Chikka Wakka Chikka - Porn Music For The Masses". Chenard wasn't allowed in because he organized an orgy in Paris without inviting the Seattle crew !
The way some tracks were created could be compared to a gang-bang - everybody's fucking with one another... Here are porn horn, fuzzy bass, dirty lyrics and sesso matto drums for your free sex parties.
Chenard is your porn star !
Comment |


01 X Rays
02 Fool No More (Sex mix)
03 Wild Young Men
04 Chich Kebab (Porn mix)
05 Devotion
06 Let's Bang Bang
07 Io (Free Sex Party)
Cover art : front | disc | back
Songs by Chenard Walcker
cc 2004 Free Sample Zone