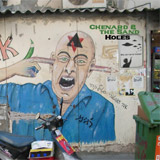 stream mp3s via m3u
download zip (45 Mo)
Chenard And The Sand - Holes
fsz035 | 26:24 | may 2005
Holes, holes, holes in the O, Michael Jackson, David Axelrod, François de Roubaix, Serge Gainsbourg, Nino Ferrer, Russ Garcia, Soundgarden - holes in the Beach Boys, Miles Davis, Bruno Nicolai, Ennio Morricone, G&M Angelis, Piero Piccioni - holes in a big list of songs with the word 'Hole' in their title... even including some by the Beatles. Shame on Chenard !
The soli on tracks 04, 08 and 09 were played by Remco Takken, Ditmer Weertman and Jelis Stam. They play together in an experimental band called Schors. They sent all their albums to Chenard. Many thanks to them.
The guy on the cover actually killed himself just after he had finished his painting on a Tel Aviv wall full of holes. Did you notice that the word KILL appears on the picture ?
Comment |


01 Holy Are You
02 Fixing A Hole
03 Mike Hole
04 Holy Bee
05 Half A Hole
06 Holes
07 Des P'tits Trous
08 Le Trou
09 Hole Rock
Cover art : front | disc | back
Songs by Chenard Walcker
cc 2005 Free Sample Zone