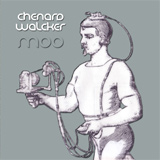 stream mp3s via m3u
download zip (55 Mo)
Chenard Walcker - Moo
fsz047 | 34:36 | march 2006
It all began one manic night in late march 2006... Moo is one of the creepiest, wild pumping thingy cut-and-pasted by Chenard Walcker. This is an album with fuzz guitar riffs, heavy swirling organs, hapsichord, flutes, saxophone, smooth voices, horns, weird synthetizers effects, dissonent pianos, sitar, loud basses & a handful of FAT BEATS !
Though it is a perfect match for the amphetamine and speed culture of the junkies that live in Chenard's neighbourhood in Paris, you won't have to take any drug to enjoy this moosika. You might even shout "MOOOOOOO" as a horny camel.
Fun may be for you to listen to the original tracks, so here are the references of the original albums that were sampled for Moo.
Comment |


01 The Carpet
02 Feel So Bad
03 Regressive Rock
04 Two Birds
05 Gonna Get Better
06 Moozika
07 Where Is My Mind ?
08 Truthpaste
09 Song For Lisa
10 It Takes Love
11 Where Is My Mind ? (Reprise)
Cover art : front | disc | back
Songs by Chenard Walcker
cc 2006 Free Sample Zone
Dedicated to Lisa Sinder