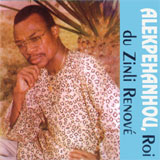 stream mp3s via m3u
download zip @ RapidShare
Alekpehanhou, Roi du Zinli Rénové
acm013 | 49:26 | may 2005
I bought this tape, along with a few others, in some music shop of Cotonou. Cotonou, the main city in Benin (West Africa), features most of the self-produced labels of the country.
This soulful music is by a traditionnal artist called "Alekpehanhou, Roi du Zinli Rénové" (Alekpehanhou, King of the Renewed Zinli). Zinli is a traditionnal rhythm from south Benin which is still played nowadays, along with Soyoyo, Tchink system, Juju...
Artwork was adapted for the CD jewel case. I've used most of these tapes for the voices of the cut & paste Vodoun album.
Chenard Walcker
01 Alekpehanhou We Gni...
02 Ayi Djidjon Houenou
03 Kou Da Zoma Tehe
04 Ani A Ka De Ton Ne
05 Zounmèfi Nekan Nè An
06 Towe We Djlo Gbeto
07 Mi De Sii Bo Djo Homesin Do
CD cover art : front | disc | back
Tape cover art : front
Songs by Alekpehanhou