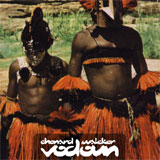 stream mp3s via m3u
download zip (65 Mo)
Chenard Walcker - Vodoun
fsz034 | 40:29 | april 2005
"Vodoun" plays on the contrast between soulful voices from Benin and the porn grooves of Chenard Walcker. The sound is rough, close to saturation. So Faders up !
Chenard went to Benin (Western Africa) years ago. He bought there some tapes by two traditionnal singers, Le Roi Alokpon and Alekpehanhou. All the voices of "Vodoun" were sampled from these two tapes. Please check out the originals. Free Sample Zone shares both of them :
Le Roi Alokpon
Alekpehanhou, Roi du Zinli Rénové
Benin is where is practiced the rite of Vodoun. It's also historically the place from where the slaves were sent to America. That's how Vodoun was imported to Haiti, and it evolved to Voodoo.
Comment |


01 Klebo Stereo
02 Devaluation
03 Gbèté Blo Me Mi Yi
04 N'Nan Dou Gbetche
05 Vodoun
06 Ma Wa Nu Dogbé Mè
07 Kou Da Zoma Tehe
08 Egba Dou Gbetche
09 Tchetoula Klebo
10 Alekpehanhou We Gni...
11 Le Crayon De Dieu...
12 Zounmèfi Nekan Nè An
13 Le Peu Me Va
Cover art : front | disc | back
Voice by Le Roi Alokpon and Alekpehanhou
Music by Chenard Walcker
cc 2005 Free Sample Zone