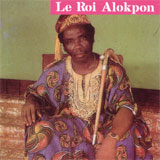 stream mp3s via m3u
download zip @ RapidShare
Le Roi Alokpon
air059 | 41:16 | june 2005
This is my favorite tape among all those i've bought in Benin (West Africa) years ago. Le Roi Alokpon ("King Alokpon") has a wonderful voice and the music is one of the most soulful i've ever heard. Many thanks to Jean-Baptiste Miel and François-Romain Dumont, the nice french guys i met in Cotonou who gave me a list of traditionnal tapes i should buy.
These guys released via their site Cosmonote, the first volume of their self-edited Sonorama series of interactive documentaries on south-Benin musics and dances. "Sonorama - sud du Bénin" (DVD+CD, it's in french). They are currently recording material for the next one that will be about music from Burkina Fasso.
Artwork was adapted for the CD jewel case. I've used most of these tapes for the voices of the cut & paste Vodoun album.
Chenard Walcker
01 Tognisse Bo Minon Gni Se
02 N Nan Dou Gbetche
03 Adjo Dessounon Azonwe
04 Devaluation
05 Vidji Go Ho
06 Tchetoula Klebo
CD cover art : front | disc | back
Tape cover art : front
Songs by Le Roi Alokpon