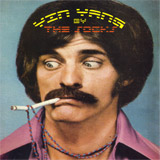 stream mp3s via m3u
download zip (35 Mo)
The Socks - Yin Yang
fsz032 | 19:55 | february 2005
The three legged Socks went again on some ultra classic trash r'n'b voices to decipher wether a little gOOd was to be found in the bAAd, or the contrary.
Please forgive them if those tunes appear to you a bit foolish. If you do, you can call them Fathead, or Goofball, or Bozo, Jackass, Goose, Cuckoo, Twat, or even Zany. The lads are clumsy and shy, but have there some pretty hot beats for ya !
Apart from the other release of The Socks, called Boots, 14 tunes built-up upon that same idea were released on Chenard Walcker's albums. Check them all here.
Comment |


01 Enjoy This Trip
02 Unlimited Woman
03 Hung Up Foolish
04 Moody
05 DRI BILL TERR
06 Max Mix Girl
07 Try Helium Again
08 Not The Man
09 See What You Hold
Cover art : front | disc | back
Songs by Chenard Walcker
cc 2005 Free Sample Zone